In the 1970s, skateboarding really began to take off as a hobby and sport. A couple of decades later, "skate style" became a thing. In the 1990s, skater clothing was as important as the board itself, and what skaters wore at their local parks was mainly for function as well as style.
Fast forward to today, and the basics of skater style are still as cool and trendy as they were 30 years ago. For instance, the following "OG" clothes that were popular back in the day are still as classic and stylish now.
Skate Shoes
The first piece of clothing "equipment" that newbie skaters should buy is a good pair of skate shoes. For safety, you don't want to be going barefoot or don your flip flops or other sandals when skating; instead, go old school with a great-looking pair of Vans. This iconic brand was seen on plenty of skaters three decades ago and is just as home today in skate parks and sidewalks.
Loose and Comfy T-Shirts
Skaters of the 90s preferred loose-fitting and comfortable T-shirts, preferably with some type of graphic. Today, this style remains popular — while you can go with short sleeves or long sleeves depending on the weather, you want to stick with a crew neck T. The Blind OG Reaper t-shirts with their classic reaper logo come in white or black and feature a generous cut while looking great.
If you want to make your own T-shirt more distinctive and exquisite, consider adding a little accessory like a pin, or a custom patch to decorate it. For example, you can customize a batch of custom pins with skateboarding elements, and custom patches to decorate your clothing. This will not only make you look more sophisticated and more successful in interpreting the classic skateboarding style but will also allow you to successfully blend in with the skateboarders. These small items are popular among the skateboarder crowd and are a great choice as gifts for friends, in addition to their own use.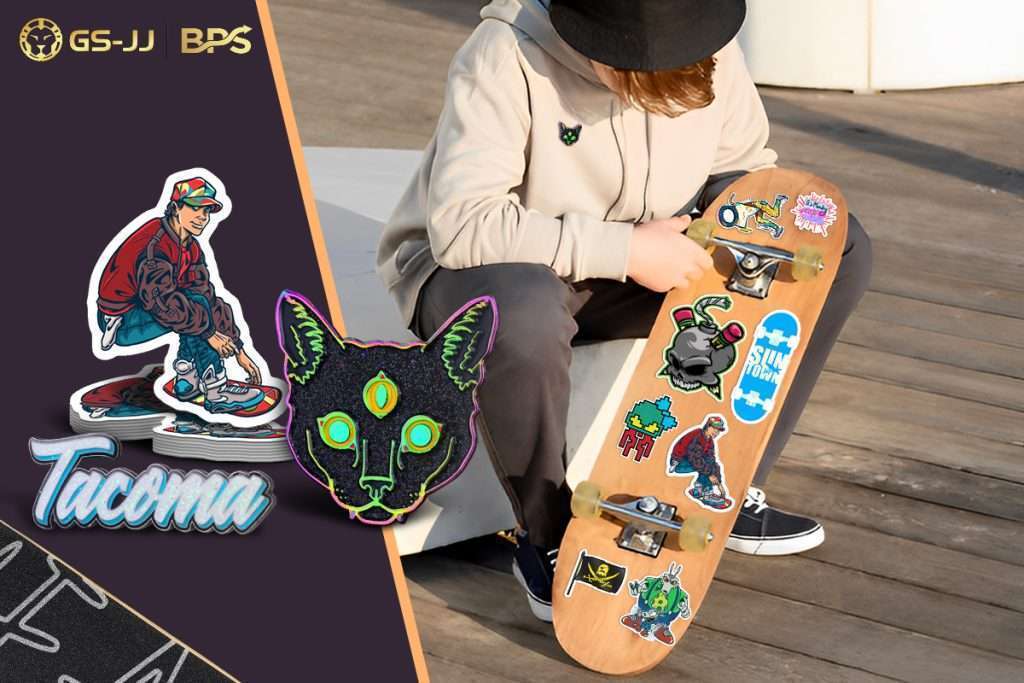 Shorts and Pants
Like the t-shirts, skater shorts were originally selected for being loose-fitting and able to handle some falls. Thirty years ago, skaters looked for durable cotton shorts that hung down below the knee; today, you still can't go wrong with cargo shorts that are cut generously. The cargo shorts from Aeropostale offer an OG look with plenty of pockets as a bonus. Today's skaters who want to protect their knees a bit more can still channel the original style of the 90s; jeans are always a solid choice, as are slim-fit work pants from Dickies. They are designed to offer a good range of motion and flexibility and are about as durable a piece of clothing as you can find.
Hoodies
On cool days, a hoodie will not only help to keep you warm, it will also offer your arms some protection from falls. Skaters in the 90s and today will be right at home in an all-black, navy or gray hoodie with or without a graphic design, or, if you prefer a louder look, you can emulate the OG skaters with a more vivid color and bright eye-catching graphic. While you don't want it to swim on you, do opt for a hoodie that is roomy as opposed to more tailored.
Classic Skater Clothes Will Always Be in Style
You probably wouldn't want to ever wear your dad's bell-bottoms from the 70s or your mom's pantsuit from the same era, but if your folks, relatives or friends were into skateboarding in the 90s and still have some of their old clothing, ask if you can borrow it. If not, treat yourself to some Vans, a loose-fitting t-shirt and a pair of shorts and get ready to practice those 180s at the local skate park, knowing you are sporting the classic skater styles.