Being the best man or the maid of honor is a great honor, but it also comes with a huge responsibility. What responsibility you may ask? Planning the perfect unforgettable bachelor or bachelorette party of course! Now, you could always plan some boring, forgettable party bus to a bar on the other side of town. Or you can do something new, something with pizzazz — a proper sendoff into a wedding. From a cruise on the open sea to a surf camp in Morocco, we have listed a few places to go below:
1. Vineyard Hop in Portugal
For wine lovers, we have the perfect destination for you. Travel to the hot and dry wine region of Alentejo, southeast of Lisbon. There you can drink wine from ancient fermenting clay vessels known as talhas. Begin your party in Herdade do Rocim, a beautiful, 247-acre wine and olive estate with a breathtaking view. Then be on your way to Cartuxa Winery, a regional landmark since 1776. When you're done there head to Adega José de Sousa, which is said to hold a one-of-a-kind collection of talhas measuring seven-foot-tall. It's a wine lover's heaven.
2. Hike the Isle of Skye in Scotland
These jagged peaks, high sea cliffs and patchwork terrain all look like something straight out of "Game of Thrones." Though the landscape is open for all to explore, we advise you to hike with the locals as your guide — you don't want to get the groom or bride lost, do you? Notable walks in the area include Fairy Glen and the Old Man of Storr. You can also find dinosaur footprints in the area.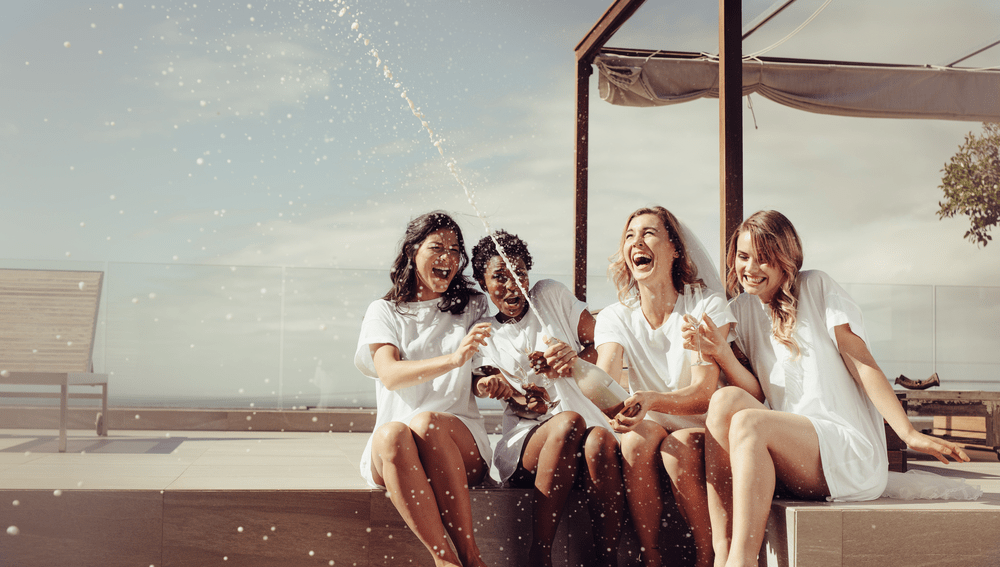 3. Taghazout, Morocco
Where are the adrenaline junkies? We have two words for you: Surf camp. You can book with a Surf Maroc and they'll get you set up in the fishing village of Taghazout. The waves are perfect for riders of all levels, so you don't need to worry about accidents or the sorts. When you're ready for a break, take a cab into Agadir for some seaside shopping or dining. If the group consists mainly of beginner surfers, consider going in the summer as the serious waves hit during the winter months.
4. Sea Cruise in Alaska
Blue arctic glaciers, white-capped peaks and wildlife galore — what else could you want in a trip? If your answer is fine dining and excellent evening entertainment, then an Alaska cruise is for you. During the day your group can take in all of the sights in port and in the evening can relax and unwind onboard. It'll be a pre-wedding party you won't forget.
5. Green Mountain Falls, Colorado
Turn the bride or groom and their friends into hardcore mountain men and women on this Colorado adventure. Well, more like really comfortable mountain men and women who enjoy Wi-Fi, modern furniture and flat-screen TVs. Outlook Lodge features a Victorian-style retreat with all the creature comforts of home. Nobody said hiking in the Pike Peak National forest couldn't be an adventure and a luxury experience at the same time. You can go rafting in the white waters of the Royal Gorge or go fishing for trout. Best of all, the lodge is open all year long but in the summertime, Green Mountain Falls offer more activities.
It is not an easy task to plan a bachelor/bachelorette party, but we are confident you can do it, especially with these tips. Good luck!