Alright guys, I get that you probably don't have secret aspirations to be the male version of Martha Stewart and you have more important things to deal with like studying, girls and making my delicious shots – I hope! However, if you're planning to host a Halloween party this year, you'll definitely need food.  I'm not knocking your usual menu consisting of a bag of chips and a keg, but why not kick it up a notch?  Here are a few tasty items to serve at your next party and the best part is they are super easy to make!
1. Chili Cheese Dip
Take a block of cream cheese, a can of Hormel chili and place it into a bowl.  Microwave for a few minutes until everything is melted.  Stir and serve with tortilla chips.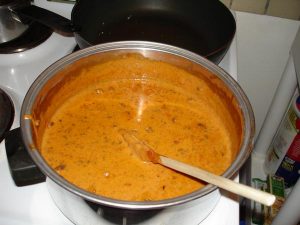 2. Salsa and Cheese Dip
Not into chili? This one is even easier.  Take a block of cream cheese and place it on a plate or dish.  Pour a jar of your favorite salsa over it and serve with tortilla chips.
3. Simple Nacho Bar
Brown some ground beef and season with a packet of taco seasoning. Warm up a can of nacho cheese preferably in a Crock Pot.  Serve with tortilla chips, shredded lettuce, sliced olives, jalapenos, sour cream, guacamole, hot sauce etc.
4. Dessert You Ask?
Why not try pudding shots?  That's right, pudding instead of Jello. Grab a box of chocolate pudding and following the recipe.  Substitute vanilla vodka, kahlua or frangelico in place of cold water.  Trust me, the ladies are going to LOVE these!!
Happy Halloween my little goblins,
Roxi