These hella stylish and super soft garment-dyed tees are the latest and greatest in Twenty Jeans style innovation. With an uber-comfy 100% cotton fabrication and a mega-modern aesthetic, they're just the kind of no-brainer easygoing shirts everybody wants on hand each morning. A perfectly simple, solid black tee is good currency anywhere, anytime. Wear it solo to make a hipply minimalist statement…or perhaps you want to go for a more complex, thoughtfully crafted look? Go for it – feel free to rock these tee's with anywhere from one to 43 other layers.
Modern Crew-Neck Tri-blend Tee in Smoke Screen
Soft, slim-fitting, and undeniably comfortable:  the style-minded Modern Crew is stellar. The classic crew-neck's modernized profile offers a few key new-school perks. Note the ample amount of room allowed by the broadened collar, for instance. These tees'll have you breathing easier than an O.G. crew-neck would dare allow. Also notable? The so-soft-you-won't-believe-your-hands feel, courtesy of the tees' smart tri-blend fabrication by Twenty Jeans. This special blend creates balance: just-right levels of both stretch and restraint; softness and durability. The resulting look is perfection: fully casual and come-as-you-are meets a faint, flattering note of pre-planned polish. A screen-printed interior logo keeps the soft and simple routine going – your neck can bid tag troubles goodbye.
Modern Crew-Neck Tri-blend Tee in Soft Focus Grey
This Twenty Jeans collection of painstakingly garment-dyed short-sleeve tees is the most recent addition to the lineup, and we think it's an asset to the manstyle revolution as a whole. With an extremely soft, 100% cotton fabrication and a fresh, modern appeal, these tees are just the kind of wardrobe staple we all search for and deserve to own in excess. The colors are about as multi-purpose as exists in the natural world. Enjoy the range of complementary hues that'll rock out next to this versatili-tee. (Hey-ohhh, see what we did there!? Heh.)
Modern Crew-Neck Tee in Impeccable White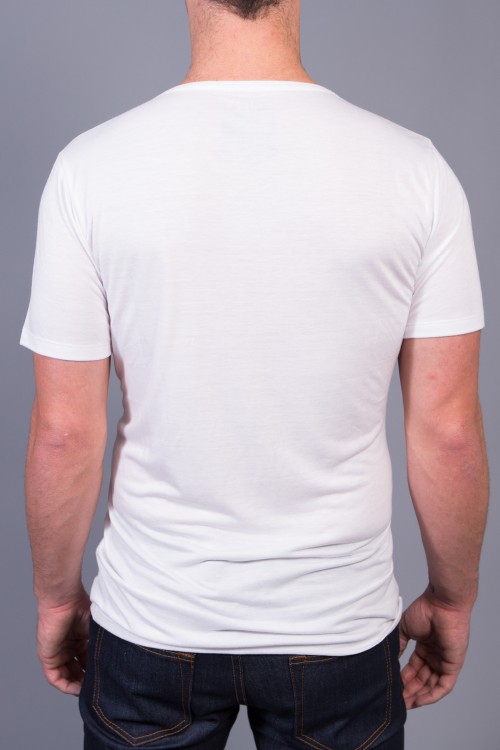 Bonus: the thoughtfully finished Twenty Jeans neckline gives this simple essential a little high-end appeal. The process of garment-dying an item after it's been constructed is more time-consuming and expensive than standard methods, but it makes your tee-shirt (and you) a winner. How? We're glad you asked.
Why garment dying is important:
Gives the tee that supersoft, broken-in feel we all know and love…It's like buttah.
Makes the color rich and long-lasting. Talkin' mega fade-resistant.
Eliminates 99% of shrinkage. The size and fit of your tee will stay true.
About Twenty Jeans

Twenty Jeans is the brainchild of serial entrepreneurs Corey Epstein, 28, and Mark Lynn, 29. It all started on a fateful flight, where the old childhood friends found themselves seated next to each other en route to the denim capital of the world, Los Angeles. At the time, Epstein was a globetrotting management consultant by day and established DJ by night. Lynn was a "recovering" real estate developer and hotelier entrenched in his newest venture, an online wine company. A few in-flight libations later, Epstein and Lynn found common ground in their business ventures, and not for the first time. It was denim.
Twenty Jeans is based in Los Angeles, California and helmed by Epstein, CEO, and Lynn, President.