Let's cut to the chase. Guys would prefer to receive sensible and practical gifts instead of another bottle of cologne (still have unused bottles collecting dust from previous years), tools (we get the hint we should be doing more around the house), and "fashionable" clothing our significant would "love to see us in" (rather than what we actually like to wear). Enough already! Give us something that will generate a legitimate smile when we open it – such as subscription-based products that will last the whole year through.
800razors.com, the burn-free razor company, suggests a few subscription-based gift ideas that will be used the whole year through:
Eat Like a Man
Mantry
Let's not forget that we guys have refined tastes beyond steak. Enter Mantry.com, the modern man's pantry. Each month, Mantry sends a box of high-quality, locally produced food to your door in a crate! Subscriptions come in at $75 a month.
Shaving Time & Money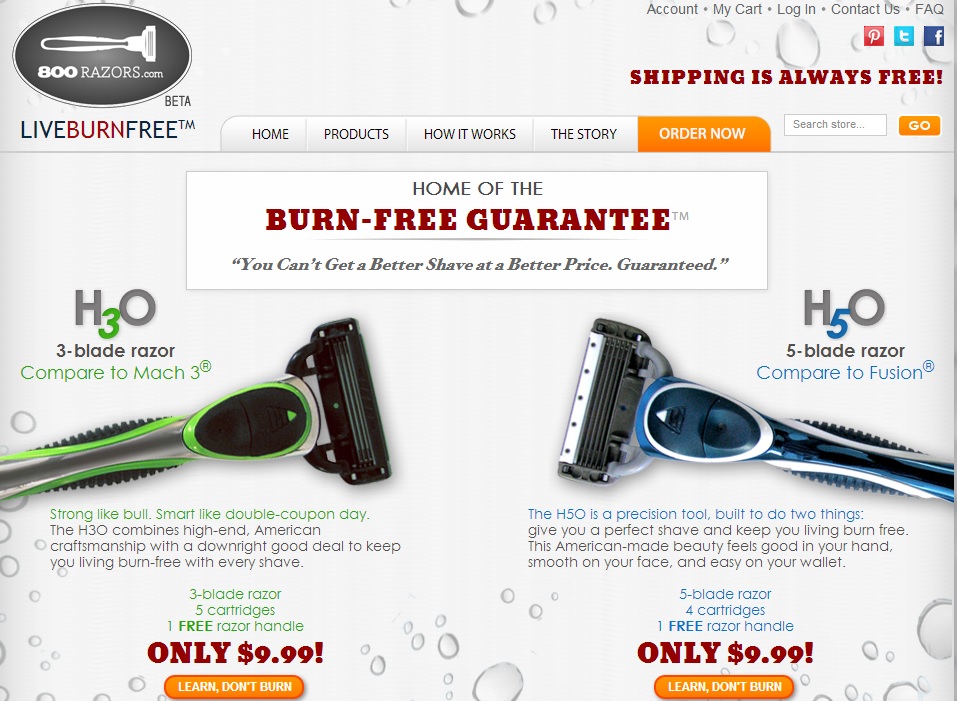 Wasting money on razors while waiting in long lines at the pharmacy is a thing of the past with a subscription to 800razors.com. Unlike other online razor companies that outsource crappy razors, 800razors.com offers American made razors that compare to Gillette's Fusion and Mach III for about half the price.  For $9.99 a month, you'll receive a handle with 4 high-quality 5-blade razor cartridges.
Smell Like a Man
Birchbox for Men
Guys like to look and smell awesome but hate being told by their significant other what to do. Birchbox for Men gives guys the opportunity to smell, groom, and look great, without being pestered to try this new product. Subscription starts at around $20 per month.
Improving the Fishing Game
Mystery Tackle Box
Sometimes guys just want to get away and spend time with their buds catching fish and drinking beer. With MysteryTackleBox.com, guys are sent high-quality fishing products including lures, tackle, and seasonal bait. Monthly subscriptions are around $15.
About the Author
800razors.com is the burn-free razor company. 800razors.com ensures people get the best razor for the best shave at the best price, or it will provide a full refund via its Burn-Free Guarantee – no skin burn, wallet burn, or American job-loss burn.