************Congratulations to Tony Nanthavong!************
You may have heard that the most successful people in the world are early risers. A recent article on Forbes.com stated that "natural morning people" (people who wake up early without a jarring alarm clock) are more in tune with the rhythm of the world. While the data sounds great, we know everyone isn't a morning person, and today, with the clocks "falling back," Male Standard knows you might need twice the help getting out of that super toasty bed! If you're not an early bird, or find yourself annoyed at your alarm clock, we are challenging you put the kybosh on the snooze button, and become a more successful morning person using the Philips Wake-up Light. Don't have one to hand? No problem, Male Standard is giving one away to one lucky reader at the end!
One Week With The Philips Wake-up Light
So, first things first. What is a Philips Wake-up light, and why would you want one? This amazing gadget simulates a sunset or sunrise, with light gradually increasing or decreasing 30 minutes before your "alarm" is set. This signals to your slumbering body that it's time to transition from sleep to waking, or visa versa depending on your needs, without the traditional blaring sirens of an alarm clock. It allows you to wake up gradually, and in a truly relaxing way so that you feel more prepared for the day ahead. The WakeUp Light can also be programmed to put you to sleep with it's neat sunset program so that you fall into a more restful slumber each night, leading to more good zzz's on your agenda all-round.
To find out more about Day 1, please read our Male Standard review here on the first impressions.
Day 3: The FM Radio Experience
After the success of Day 1, and feeling rested from the night before, we were excited to test out the FM Radio feature, which wakes you to the sounds of your favorite morning radio show. Believing this to be a great way to step away from the birds tweeting, and into something more exciting and refreshing, we found the FM Radio to be one of our favorite ways to wake up; nothing beats hearing your song on the radio, and it can set a whole new "tone" for the day. The FM Radio feature also became a great addition to the bedroom, as we quickly discovered that as a society, we have become dependent on MP3 devices. Staying in tune with the local news is also a terrific way to know what the day ahead looks like; weather forecast, travel update or global news anyone? It's like hearing a digital newspaper. Having this hands-free feature is also a neat parlor trick of an evening.
What We Liked: 
If "your song" comes on, you know it's going to be a stellar day
Catching the news and highlights of the morning from the comfort of bed
Having a new music-box in the bedroom that doesn't require hands-on attention
Day 5: The Concierge Is Calling!
By Day 5, we were getting into the swing of this new innovative alarm clock, and got around to programming not one, but two alarms. In many homes, people wake at different times, and having the ability to wake up without an alarm clock can afford you the best present all year round; Thing 1 can wake up, and Thing 2 can sleep on. It's like having your own personal concierge, and what successful person doesn't have one of those? When setting two alarms, you have the same functionality for each alarm, and can customize it so that you and your lover are both able to choose how you start your day. As the natural sounds are least intrusive, the light will bring each of you round gently, and allows you to make best use of that time in-between, however you see fit.
What We Liked: 
You can set two alarms, for two different WakeUp needs
Each alarm can be customized for your morning choice easily
The buttons are on alternate sides so there's no accidental snoozing
Day 7: The Personal Sunset
Day 7 marked the end of a long and productive week, and the sunset setting that has a built in timer, lulling you off to sleep. Have we mentioned how much having your own personal sunrise rocks? Because it does! This feature deserves a big shout out in it's own merit, as it's completely unique from any alarm clock we've ever seen, and made such a difference in our overall sleeping success. You see, waking up it turns out is only half the battle, and if you don't fall asleep correctly (think Goldilocks, not too soon, not too late), then how and when you wake doesn't really matter much in the long term. If you have trouble falling asleep at night, this can help tremendously as the sunset tricks your body into feeling sleepy sooner. It becomes a natural way to encourage you to fall asleep at just the right time, getting more zzz's when you need them most.
What We Liked: 
The sunrise feature that allows you to fall asleep easily
Having a build in and reliable reading light without glare
Being able to turn off or tune out sound altogether if you desire
Win a Philips WakeUp Light
One thing we learned with the Philips WakeUp Light is how quickly it can change your sleeping pattern into a more productive nights sleep. This was so much so that by the end of week 1, we were back on track and regained a lost ability to fall asleep quickly, easily, and most of all, WakeUp restfully. Of all the sound settings, the most used in our home is the birds, which we luckily stumbled upon on the first day. There's no science as to why that one works any better than the rest, and we do change sometimes for fun, but having that choice is important when working out what is key for you. Having a feature that let's you set dual alarms be is also another factor, as we are all unique, and we're confident that you'll have the same success with the sunset feature as we did.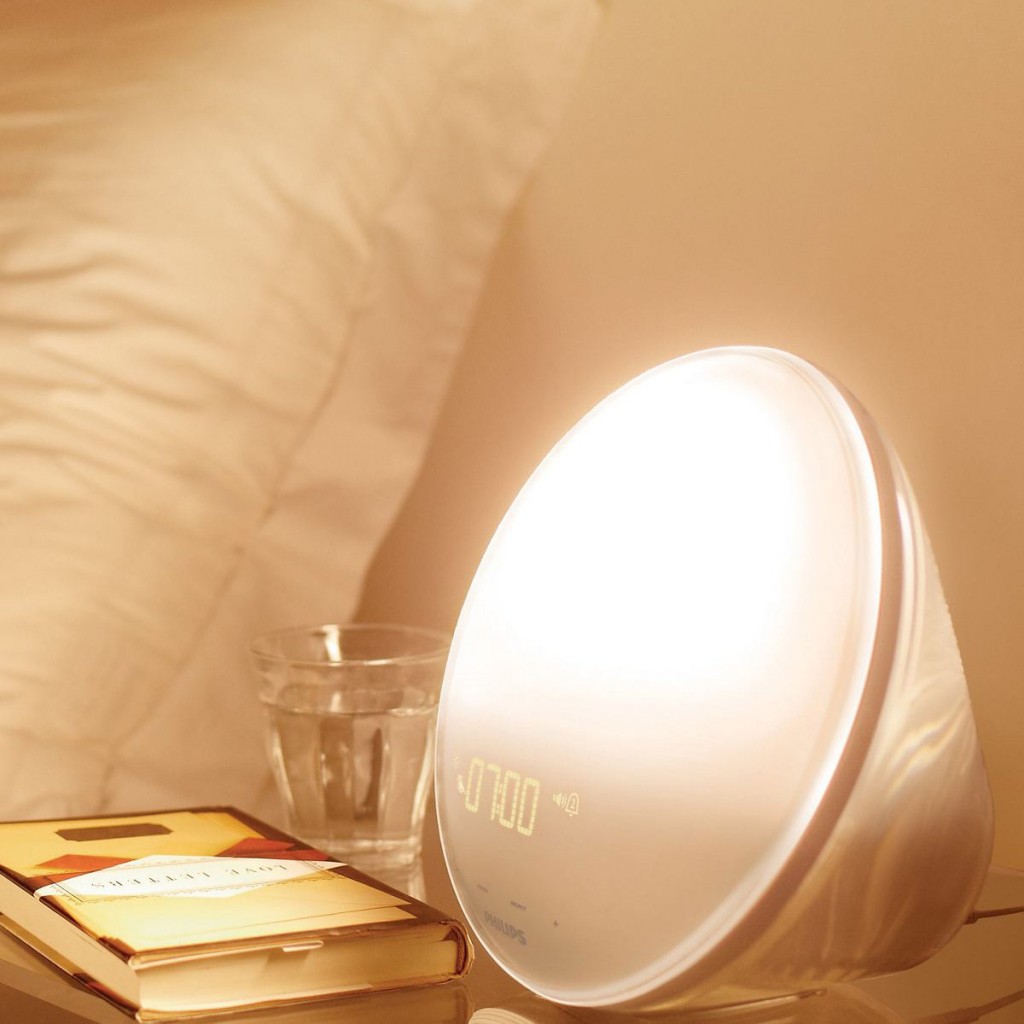 Male Standard has an awesome Philips WakeUp Light to giveaway to one lucky reader, and we couldn't be more excited. This attractive and functional alarm clock has become a firm favorite, and really makes a significant difference when it comes to getting over those morning blues. To enter, all you have to do is sign in below, and leave a comment telling us why you need a better nights sleep. The winner will be chosen at random, and the more times you enter, the more chance you have of scoring a great nights sleep! Good luck!
************Congratulations to Tony Nanthavong!************
For more info on the WakeUp Light, please visit Philips.