Saas Hot Sauce the new sauce that is making a splash. A team of students brainstorming came up the idea of Saas in efforts to generate money to help protect traditional culture worldwide. In a collective effort, they came up with the ingredients for what is now known as the "Original Flavor." After putting the sauce on everything BBQ they soon discovered it went great with fruit. Realizing Saas escalates the natural flavors of fruit the team of students sought out to share their new favorite snack with the world. Here's how to Saas up your salsa with Saas Hot Sauce!
Crab Cake with Corn Salsa
Crab Cake with Corn Salsa
Ingredients:
1/4 cup mayonnaise
2 shallots, thinly sliced
1 teaspoon SAAS hot sauce
1 large egg, lightly beaten
1 tablespoon Dijon mustard
2 teaspoons fresh lemon juice plus wedges for garnish
1 1/2 teaspoons Cajun seasoning
1/2 jalapeño, seeded, finely chopped
1 pound lump crabmeat, picked over
1 1/4 cups panko (Japanese breadcrumbs) save some a side to coat the top when cooking
1 tablespoon thinly sliced chives
1/4 teaspoon kosher salt
1/8 teaspoon freshly ground black pepper
1 head Bibb lettuce
2 tablespoons vegetable oil
Preparation for the crab cake:
Whisk first 8 ingredients in a medium bowl. Add crab; fold to blend.
Stir in 3/4 cup panko, chives, salt, and pepper.
Divide into 6 equal portions. Form each into 1″-thick patties.
Refrigerate for at least 10 minutes.
Line a platter with lettuce leaves.
Heat oil in a large skillet over medium heat.
Place remaining 1/2 cup panko on a plate.
Coat cakes with panko.
Fry until golden brown and crisp, 3-4 minutes per side.
Arrange atop lettuce serve with lemon wedges and corn salsa a top
Roasted Corn Salsa
5 ears of Corn Shucked
1 red Peppers chopped
1 green pepper
1 red onion chopped
1 green Peppers chopped
¼ Cup Lemon Juice
1 tablespoon SAAS onion and garlic hot sauce
1 cup rice wine vinegar
Directions:
Preheat the grill to medium heat.
Husk the corn.
Brush the corn lightly with melted butter or olive oil.
Grill the corn uncovered on medium heat for 20 minutes turning on all sides to cook evenly.
Remove the kernels from the corn.
Add peppers and onions.
Combine lemon juice and rice wine vinegar and add the level of liquid to salsa for your preference.
Cover and refrigerate.
This makes a great side to meat, fish, chicken or vegetables.
About Saas Hot Sauce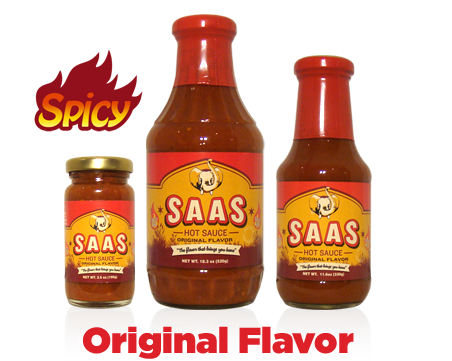 Hot Saas LLC has been committed to making quality hot sauces since 2010. We use the freshest ingredients possible in order to bring you a boutique hot sauce at a reasonable price. Hot Saas LLC has it's roots in an idea that started in 2008. We knew we could bring people a delicious quality product, as well as, generate money for charitable donations.
For more info on Saas Hot Sauce, please visit http://eatsaas.com/.